Founded by Mandy Fallon, our principal surveyor, Point 2 Point Surveys is a Redlands based surveying consultancy. Working with land and property boundaries every day, our name is inspired from these boundaries stretching from point to point.
As a team we're passionate about helping our local community to complete their building project or resolve any issues. We enjoy driving around the Redlands area and seeing completed projects we've worked on. We believe in making surveying accessible and turning what can be a complex service, into a simple proposition to help each and every client.
We combine the past with the future – playing detective with the history of a parcel of land or property, combined with using state of the art surveying equipment and expertise to ensure optimal and accurate results.
We're the only Redlands residential surveying company you need.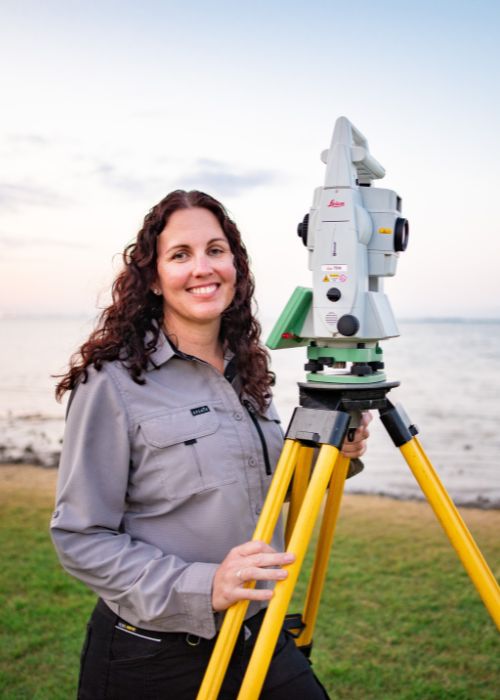 Mandy Fallon – Principal Surveyor
Founder and Principal Surveyor, Mandy has a Bachelor of Surveying and registrations in consulting and cadastral surveying. Mandy's love of maths, being outdoors and using CAD to make plans has led her to become the successful surveyor she is today.
With over 15 years' experience in surveying across private practice and government, Mandy's knowledge about surveying and the legalities around the surveying profession are extensive and drive her to share this knowledge with clients in the local community.
As one of few females in the surveying profession, Mandy brings a unique dynamic to Point 2 Point, and is known for her excellent ability to communicate and empathise, with what can be a stressful time in your life. A firm believer in integrity and transparency, Mandy's style is professional but engaging, with her phone always at hand, to answer any questions you may have.
Great service, quick response, very efficient and an excellent job completed. Thanks for all your help Mandy.
- Andrew from Alexandra Hills, QLD -
I am happy to recommend Point 2 Point Surveys. Mandy is a very approachable person and delivers what she said she would and on time. I will use her surveying services again in future.
- Nelson Lee -
Mandy Fallon provides a first class service. She responds to enquiries quickly, explains the options available and the procedures involved. She is also admirably flexible and accommodating when requirements change. I would definitely use her in the future.
- Graham Wiltshire -